Qualifications, finals and extended submissions now open for "The tides of Tech"
Téma indítója: Julieta Llamazares
Julieta Llamazares
Local time:

14:34


MUNKATÁRS

SITE LOCALIZER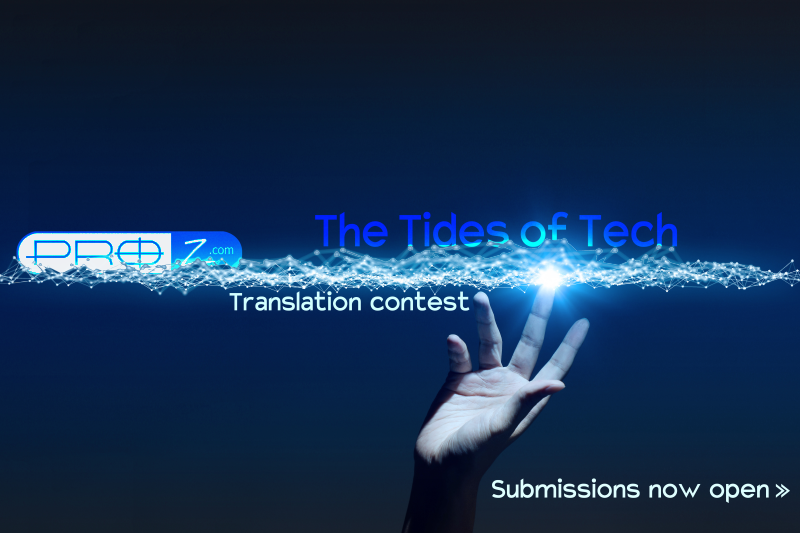 Hi there!

The current translation contest, "The Tides of Tech", is moving into the hybrid phase today, which will go on until October 25th. This means that:



Pairs with more than seven entries will move to a qualifications phase to determine the finalists.


Pairs with three to seven entries will move straight to finals.


Pairs with less than three entries will either go to extended submissions.



If you work in any of the pairs in qualifications or finals below, please help select the finalists or determine the winners by rating and/or voting on your colleagues' entries.


Thanks to the 544 participants in 64 language pairs who submitted their entries! The ProZ.com team wishes you the best of luck in the upcoming phases.


Happy translating,
Julieta and Andrea


Some notes on entry rating:





You can rate as many or as few entries as you like. It is not necessary to rate all of the entries in a pair if you do not want to.

Rating is anonymous. As opposed to tagging (likes and dislikes on an entry), raters are anonymous.

Ratings are what help determine finalists. Tags ("likes" and "dislikes") can be helpful feedback on an entry, but the ratings on entries for "Quality of writing" and "Accuracy of translation" are what determine finalists.

Participants with an entry can rate entries, too. Experience has shown that this does not negatively affect the outcome, and participants are also in a unique position to provide feedback on entries, since they have worked on the same text and are familiar with the challenges involved.

Every rating helps. Even if you only rate a few entries, every little bit helps to determine finalists and is valuable feedback for those have submitted an entry.

You get 30 browniz points for every entry you rate.

Pairs in qualifications phase:
English to Spanish
English to French
English to Italian
English to Portuguese (BR)
English to Ukrainian
English to German
English to Persian (Farsi)
English to Arabic
English to Russian
English to Korean
English to Serbian
English to Hindi
English to Thai
English to Turkish
English to Malay
English to Portuguese (EU)
English to Albanian
English to Chinese
English to Indonesian
English to Polish
English to Swahili
English to Catalan
English to Somali
English to Tamil
English to Vietnamese
Pairs in finals phase:
English to Croatian
English to Armenian
English to Hungarian
English to Swedish
English to Bengali
English to Greek
English to Georgian
English to Hebrew
English to Latvian
English to Slovak
English to Estonian
English to Gujarati
English to Hausa
English to Japanese
English to Romanian
English to Urdu
English to Bulgarian
English to Finnish
English to Malayalam
English to Norwegian
English to Oriya
English to Slovenian
Pairs in extended submission phase:
English to Khmer
English to Maltese
English to Simple English
English to Dutch
English to Irish
English to Tagalog
English to Tigrinya
To report site rules violations or get help, contact a site moderator:
You can also contact site staff by
submitting a support request »
Qualifications, finals and extended submissions now open for "The tides of Tech"
CafeTran Espresso
You've never met a CAT tool this clever!

Translate faster & easier, using a sophisticated CAT tool built by a translator / developer. Accept jobs from clients who use SDL Trados, MemoQ, Wordfast & major CAT tools. Download and start using CafeTran Espresso -- for free

More info »
SDL Trados Studio 2021 Freelance
The leading translation software used by over 270,000 translators.

SDL Trados Studio 2021 has evolved to bring translators a brand new experience. Designed with user experience at its core, Studio 2021 transforms how new users get up and running and helps experienced users make the most of the powerful features.

More info »