Dashboard items removed after upgrading CafeTran Espresso
Téma indítója: Hans Lenting

Hans Lenting


Hollandia


Tag (2006 óta)


német - holland

Jean Dimitriadis




ProZ.com-tag


angol - francia
+ ...

Jean Dimitriadis wrote:

Have you kept the old .app file or restore it? You may check package content to copy any relevant files to the new .app



I had already done so. My point is, that even when copying the .RES files to the correct folder (/Applications/CafeTran.app/Contents/Java/infos/resources/Glossaries/) they won't get listed in the Dashboard. One has to reselect them manually from the Glossary menu.

Igor Kmitowski


Lengyelország
Local time:

03:50




Tag (2016 óta)


angol - lengyel
+ ...

| | |
| --- | --- |
| Sorry, but no | Nov 13, 2020 |
Igor Kmitowski wrote:

You may have overwritten the project template right after launching CafeTran latest version when your glossary infos hadn't been transferred yet?



After installation of Big Sur, I repeated the upgrading of CafeTran Espresso on a second computer. I made sure to copy the .RES files to the correct folder before launching the app.

Still no glossaries listed in the Dashboard.

Perhaps you can add an option to the installation routine: Keep old user files? (The settings are already maintained.)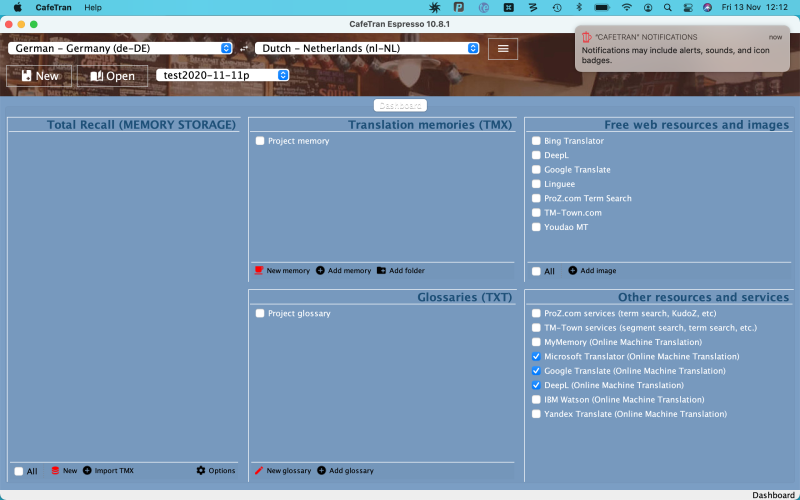 To report site rules violations or get help, contact a site moderator:
You can also contact site staff by
submitting a support request »
Dashboard items removed after upgrading CafeTran Espresso
SDL Trados Studio 2021 Freelance
The leading translation software used by over 270,000 translators.

SDL Trados Studio 2021 has evolved to bring translators a brand new experience. Designed with user experience at its core, Studio 2021 transforms how new users get up and running and helps experienced users make the most of the powerful features.

More info »
SDL Trados Business Manager Lite
Create customer quotes and invoices from within SDL Trados Studio

SDL Trados Business Manager Lite helps to simplify and speed up some of the daily tasks, such as invoicing and reporting, associated with running your freelance translation business.

More info »